News & INSIGHTS
As a business owner, you have a responsibility to ensure the safety of your employees and customers. Fire and safety signage is an essential aspect of this responsibility, as it helps prevent accidents and ensures that everyone knows what to do in case of an emergency. However, ordering the right signage can be a challenge. Here are the five essential considerations you need to keep in mind when ordering your fire and safety signage:
1. compliance with regulations
When ordering fire and safety signage, it's crucial to ensure that the signs meet the necessary regulations. These regulations may vary depending on the location and industry of your business. For example, the NF EN ISO 7010 standard. This aims to regulate the graphic symbols, colours, shapes and sizes of all building signs in order to ensure people understand these essential signs. More recently, there has been legislation change brought about by the Fire Safety (England) Regulations 2022, relating to a requirement for floor level and flat indicator signage in high rise residential properties. Our team is always on hand to ensure your fire and safety signage is compliant with these standards and regulations.
2. Clear and concise messaging
The messaging on your fire and safety signage should be clear and concise. The sign should convey the necessary information quickly and effectively. This is especially important in emergency situations, where every second counts. Use simple language and clear graphics to ensure that anyone can understand the message.
3. Visibility
The visibility of your fire and safety signage is essential. The sign should be placed in a prominent location where it can be easily seen. This allows people to easily locate fire safety signage and equipment, keeping them safe during emergency situations. Additionally, the sign should be visible from different angles and distances. Consider factors such as lighting, background, and contrast when choosing the location and design of your signage.
To provide ultimate visibility, choose HILUX® for your fire and safety signage. HILUX® offers photoluminescence to your signs, meaning they glow in the dark. This has a number of key benefits including enhanced visibility during power outages or other times of low lighting. This allows people to locate fire extinguishers, emergency exits and other critical equipment easily and safely. All HILUX® signs exceed the requirements of PSPA class C and stay brighter for longer than AAA-rated signage.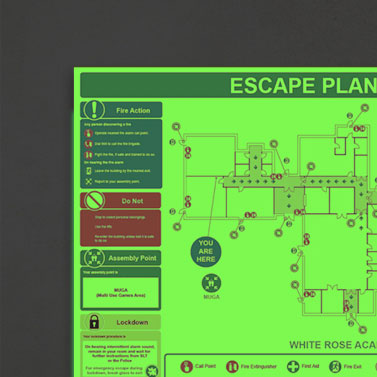 4. Delivery Times
Finally, when ordering fire and safety signage, it's essential to consider the delivery times. In emergency situations, you may need the signage as soon as possible. Therefore, make sure to choose a supplier that can deliver the signage within a reasonable timeframe. Additionally, consider factors such as shipping costs and tracking to ensure that the delivery process goes smoothly. Did you know that QDOS offer next-day delivery on all essential stocked fire safety signage? QDOS customers can easily order HILUX signage through our website with no minimum order quantities/cost!
5. Aftercare
Knowing that you have a reliable aftercare service from your signage supplier can provide peace of mind. It gives you the assurance that you are not alone in supplying and fitting up-to-date and compliant fire and safety signage. Fire safety regulations and standards can change over time. Your signage supplier should keep you informed about any updates or revisions to ensure that your signs remain compliant. You have a trusted partner who will assist you in keeping your clients' facilities safe, compliant, and well-prepared for emergencies.
Follow us
Instagram: @qdos.biz Twitter: @QDOSCAD
Trusted by
Contact Us
Fill out our contact form below with your enquiry and one of our team will get back to you ASAP.
SIGN UP TO OUR NEWSLETTER