News & INSIGHTS
Incorporating HILUX® photoluminescent fire and safety signage into a facility brings numerous benefits. The enhanced visibility, quick identification, universal accessibility and durability offered by HILUX® make it an ideal choice for any organisation. By choosing HILUX®, you can ensure that emergency exits, fire extinguishers, assembly points, and other critical safety features are easily visible and accessible even in the darkest times.
Where HILUX® signs are needed, we can create them. But why would you need to start installing HILUX® photoluminescent fire and safety signage? Having fire safety signage that glows in the dark serves several important purposes:
QUICK AND EASY IDENTIFICATION
Glow-in-the-dark fire safety signage can be quickly identified and distinguished from other signs or objects, even in low-light conditions. This quick identification can potentially save crucial moments during emergencies and aid in swift evacuation procedures.
UNIVERSAL ACCESSIBILITY
By providing a self-illuminating guide, these signs ensure that people with reduced visibility can independently access essential safety features through their luminous properties. The tactile nature of these signs further enhances accessibility, allowing those that rely on tactile senses to easily locate crucial information through touch.
LONG-LASTING ILLUMINATION
Glow-in-the-dark fire safety signage can provide a reliable source of illumination, allowing people to locate and navigate emergency exits, fire extinguishers, emergency assembly points, and other critical safety equipment in the event of power loss.
One of the key benefits is its long-lasting illumination. The signs are designed to absorb and store light energy during normal lighting conditions and then emit it in the form of a glowing effect when the lights go out. These signs stay brighter for longer than AAA-rated signs. This ensures that the signs remain visible and legible for an extended period during power outages or low-light situations.
WIDE RANGE OF OPTIONS
With nearly 150 sign designs and over 300 variations in size and arrow direction, HILUX® offers a comprehensive range of options to suit every need. Whether you require emergency exit signs, fire extinguisher signs, evacuation route signs, or any other fire and safety signage, HILUX® has you covered. The versatility of the product ensures that you can find the right sign for any specific requirements, enhancing safety and compliance for your customers.
FAST DELIVERY TIMES
QDOS offer next-day delivery on all stocked fire safety signage with no minimum order quantities or cost. So, place your order before 1 pm and you will receive your ordered stocked signs the next working day
Bright installers choose HILUX®.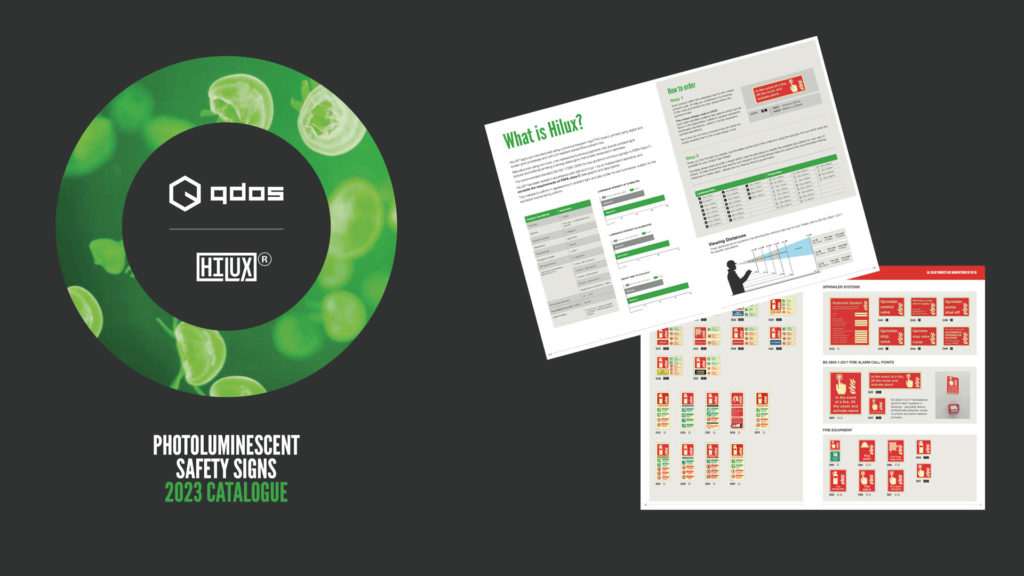 Follow us
Instagram: @qdos.biz Twitter: @QDOSCAD
Trusted by
Contact Us
Fill out our contact form below with your enquiry and one of our team will get back to you ASAP.
SIGN UP TO OUR NEWSLETTER