News & INSIGHTS
When it comes to fire safety, having an accurate and easily visible zone plan is essential to ensuring the location of the zone and alarm is easily located within the building. At QDOS, we also understand that the choice of zone plan finish may vary depending on its location.
That's why we offer a variety of expertly designed fire alarm zone plans in four different finishes. These include HILUX®, framed, aluminium and acrylic. Let us help you make informed decisions on the finish suitable for each individual job.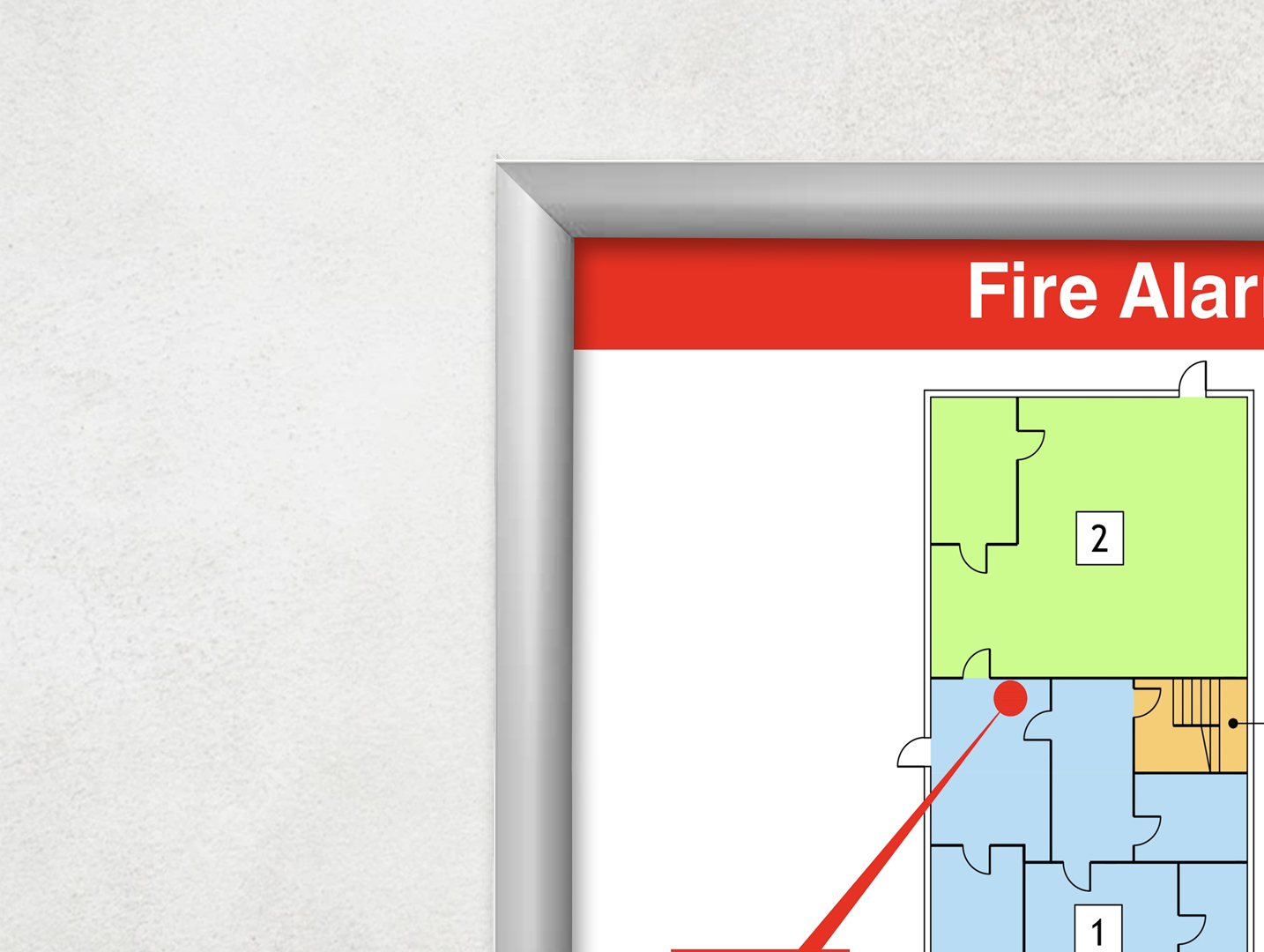 FRAMED FINISH
If you're searching for a cost-effective finish for zone plans, we recommend opting for the framed finish. Each print is provided in a silver anodised front-loading snap frame. To guarantee optimum visibility, we include an anti-glare acetate cover, effectively eliminating concerns about readability under various lighting conditions. The finish comes complete with the relevant wall fixings (screws/plugs etc) and instructions on how to mount the frame to a wall. This practical choice strikes the perfect balance between affordability and functionality.
HILUX® FINISH
In scenarios where visibility during low light or darkness is paramount, our HILUX® finish shines through. Crafted from a robust 1.2mm rigid PVC, this finish boasts photoluminescent properties that exceed the PSPA 'Class C' standard. This means the zone plans remain visible even in the absence of external lighting, providing crucial guidance in emergency situations.
ALUMINIUM FINISH
For those seeking a finish that can withstand the elements and the challenges of outdoor environments, our anoprinted aluminium finish stands as the perfect choice. The inherent weather-resistant qualities of aluminium ensure that the zone plans remain intact and legible, regardless of changing conditions. Additionally, the ability to clean this finish with graffiti-removing chemicals maintains the pristine appearance.
ACRYLIC FINISH
The acrylic finish provides a high-quality, sophisticated appearance while being highly resistant to shattering. This durability ensures that the zone plans can withstand general wear and tear, guaranteeing their effectiveness over time. The acrylic finish also offers excellent resistance to discolouration and most chemicals, maintaining visual integrity. As a bonus, it's 100% recyclable, aligning with sustainable practices.
So whether the priority is cost-effectiveness, visibility in the dark, resilience against the elements, or durability, QDOS is your trusted partner in delivering exceptional fire alarm zone plans with a range of finishes that cater to diverse needs.
Follow us
Instagram: @qdos.biz Twitter: @QDOSCAD
Trusted by
Contact Us
Fill out our contact form below with your enquiry and one of our team will get back to you ASAP.
SIGN UP TO OUR NEWSLETTER