As-Fitted Drawings
When installing or modifying a fire alarm system, as part of the document process, A system layout drawing (or As-Fitted drawing) must be provided to the premises manager.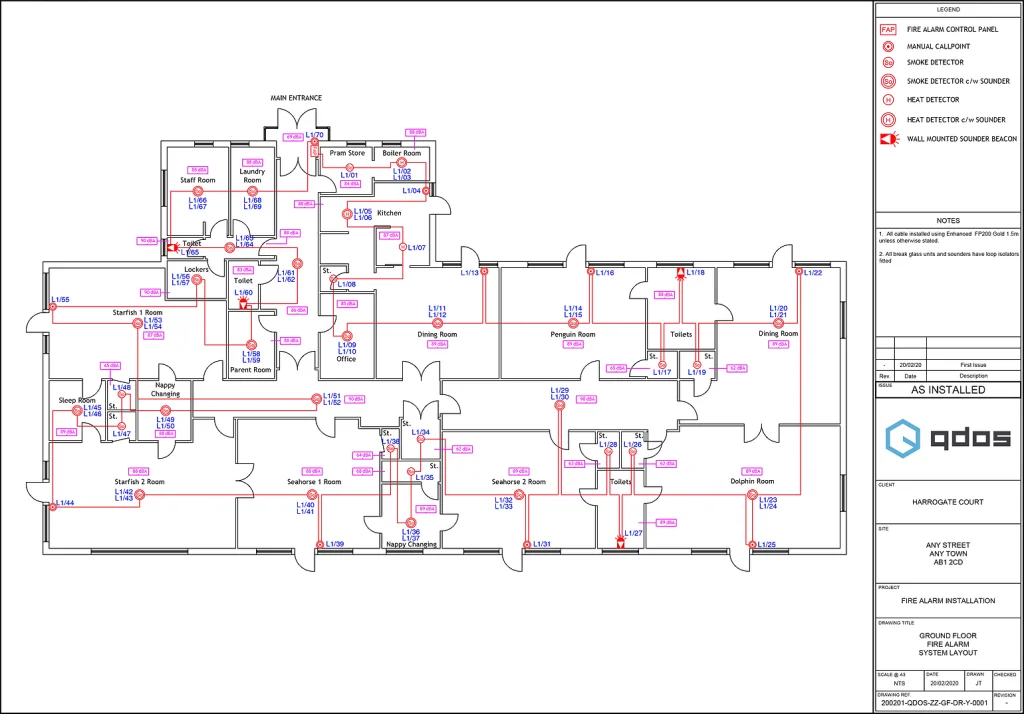 WHAT IS A SYSTEM LAYOUT DRAWING?
The actual routes of cables must be added. A simple schematic showing just the order in which devices are connected is not sufficient to comply with the recommendations. Likewise, for addressable systems, adding a note just stating wiring is in address number order does not meet the recommendations.
The actual routes must be adhered to as much as possible, whilst also showing the order in which devices are connected. Where multiple cables run together, it is acceptable to show these separately and with enough space to be able to identify separate cables on the drawing.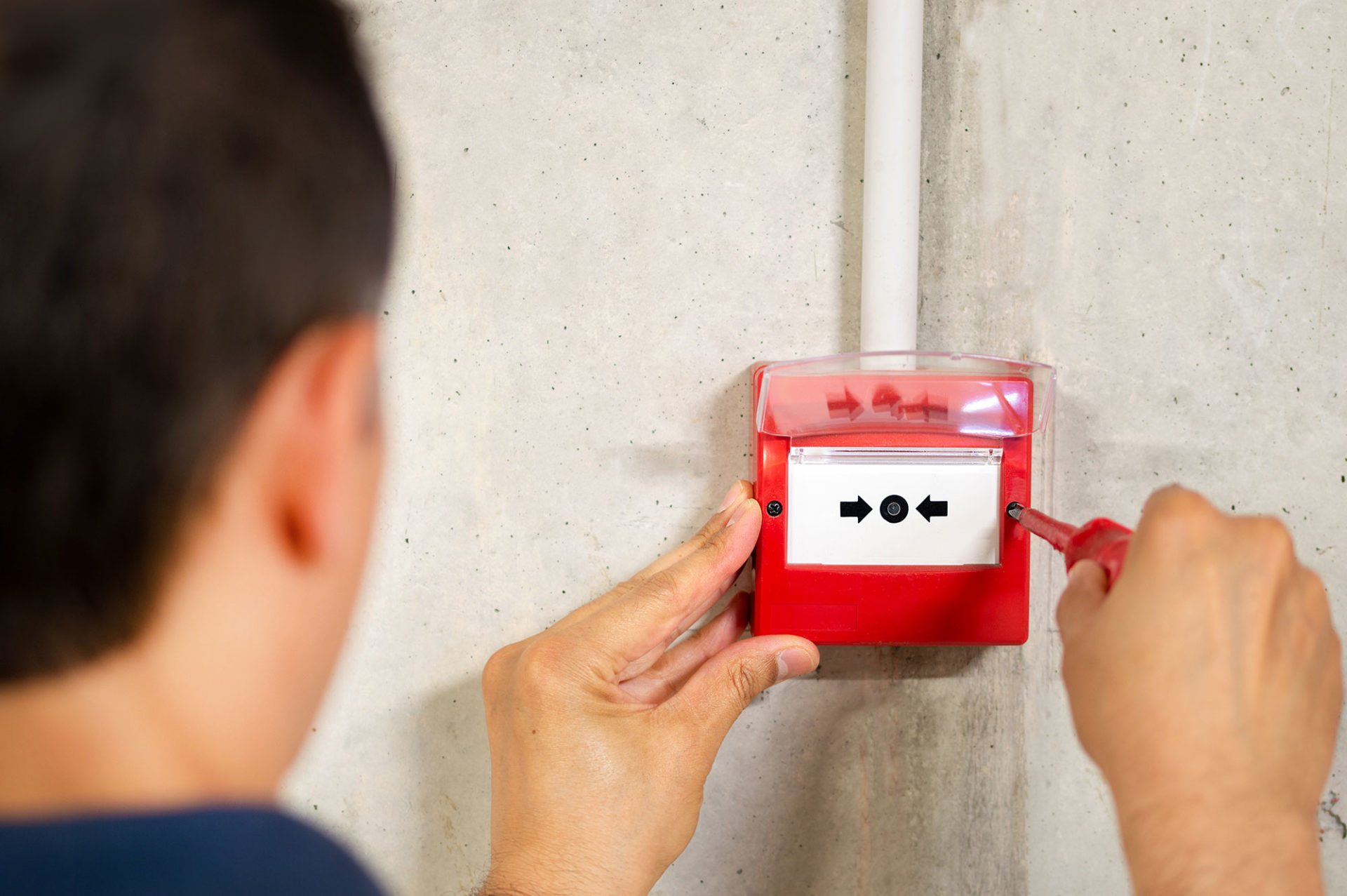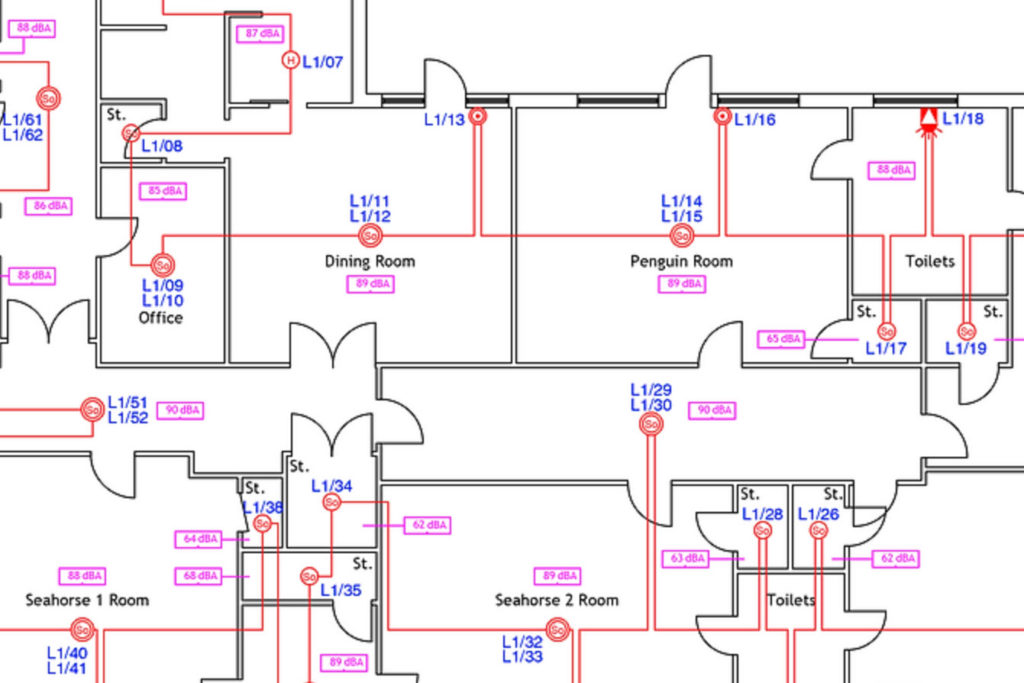 WHAT IS INCLUDED?
These drawings should include:
The positions of all the fire alarm control panels, repeater panels, and all associated power supplies.
We use a different symbol for each type of device; including a key or legend, detailing what each of the symbols is.
The positions of all equipment that might require routine attention or replacement (e.g. short circuit isolators and remote indicators).
The type, sizes and actual routes of cables. We add a note to all your drawings detailing the cable type and size.
WHAT WE DO
We complete your drawings knowing that the purpose of accurate wiring routes is to enable a competent person to locate the cable in the event of a fault or the need to modify/extend the installed system.
DON'T FORGET: Should a system be extended; the existing as fitted drawings should be updated to reflect the changes/additions too!
Next Steps
Whether you need drawings for your tender, working drawings to help with the management of the project, or As installed drawings to complete your project – QDOS can help. Simply email images of your marked-up plans to cad@qdos.biz or post the more complex ones and let QDOS do the rest!
To read our guide for As Fitted Drawings, view our article here.
FAQS
WHY DO I NEED AS-FITTED DRAWINGS?
As-Fitted (or As Installed) drawings usually show the system layouts of a building and should include any changes/modifications which have occurred on-site from the original drawings.
These drawings are usually required at the end of a project to form part of the project's handover, provided to the premises manager for the installation of a fire alarm system in accordance with BS 5839-1:2017.
WHERE SHOULD AS-FITTED DRAWINGS BE KEPT?
As-Fitted drawings should be kept safely in a Premises Information Box or operation and maintenance manual for the fire alarm system.
Should the fire alarm system be modified in any way, these as-fitted drawings should also be reviewed and revised accordingly.
DO AS-FITTED DRAWINGS NEED TO BE DISPLAYED?
No. There is no requirement to display the as-fitted-drawings, only the Fire Alarm Zone Plan is required to be displayed by each control panel or repeater panel as part of a compliant system.
Contact Us
Fill out our contact form below with your enquiry and one of our team will get back to you ASAP.
SIGN UP TO OUR NEWSLETTER