Premises Information
From the information needed for Premises Information Boxes to the externally displayed Premises Information Plates on high-rise buildings, QDOS provides them all.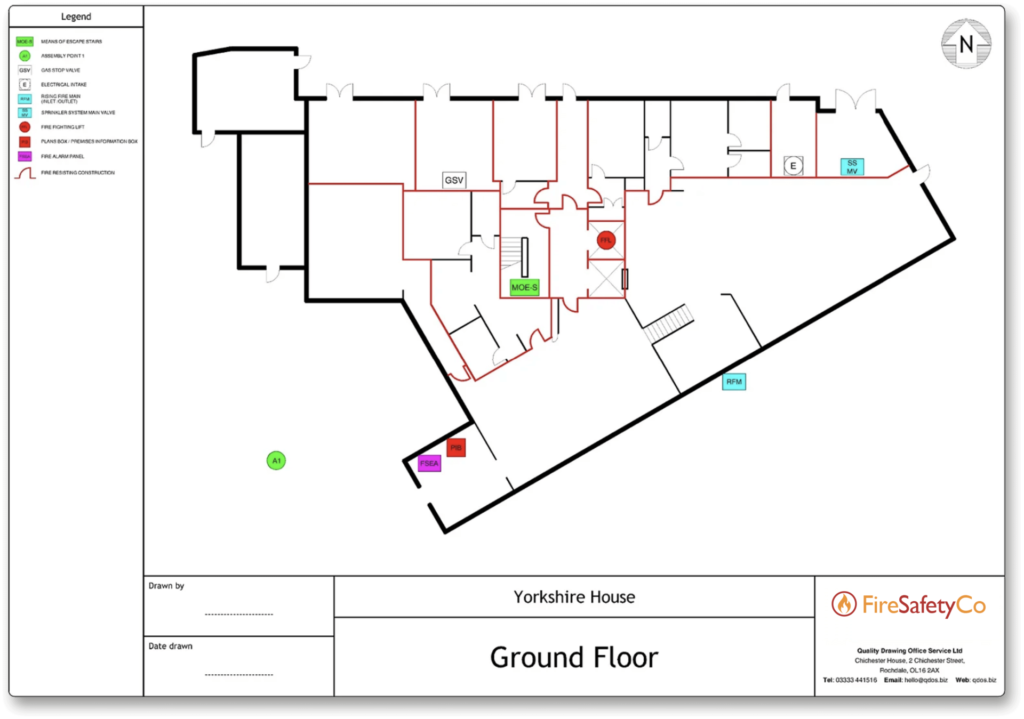 What is Included IN PREMISES INFORMATION
Within the Premises Information Box (PIB), the emergency response pack should contain up-to-date floor plans showing facilities, such as control equipment for smoke control systems, service shut-off controls, etc.
We can provide these plans, including symbols and notations, in accordance with guidance from local fire and rescue authorities and Fire Industry Association.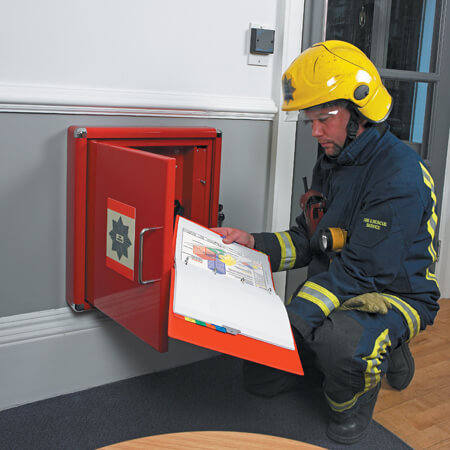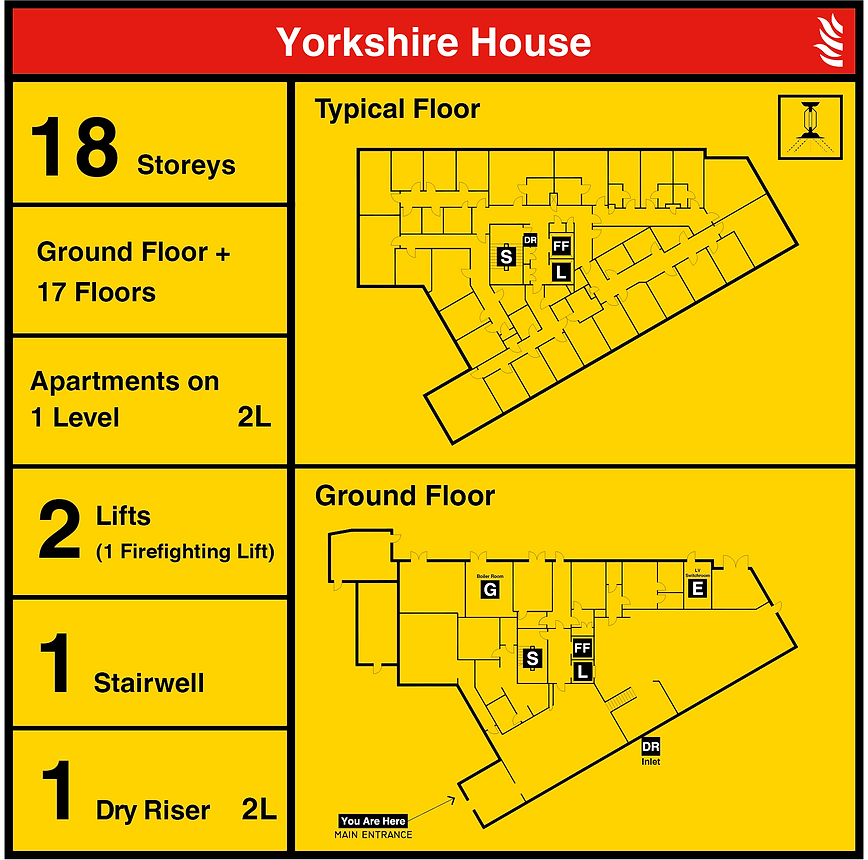 What is A PREMISES INFORMATION PLATE?
A Premises Information Plate (PIP) is a digitally anoprinted aluminium plate measuring 600mm x 600mm that should be sited externally on high-rise buildings for the assistance of the attending Fire & Rescue Service. These plates display relevant information on the layout of the building, its services, and firefighting facilities.
To aid rapid understanding of the building layout, the plan is orientated correctly and marked with a 'You Are Here' point and road names adjacent to the building. Key firefighting facilities are displayed using clear, simple icons.
Required hose lengths are displayed indicating, for example, the requirements to reach the furthest point of a flat from the dry riser or to reach the dry riser from the Hydrant. These are displayed as 1L (1 hose length), 2L, etc.
can they be used electronically?
All Premises Information Plates completed are also delivered electronically in PDF format, enabling them to be stored by the building owner, manager, or local Fire & Rescue Service.
Other image formats can be provided for integration with any evacuation system or to make them available to incident commanders and control room managers.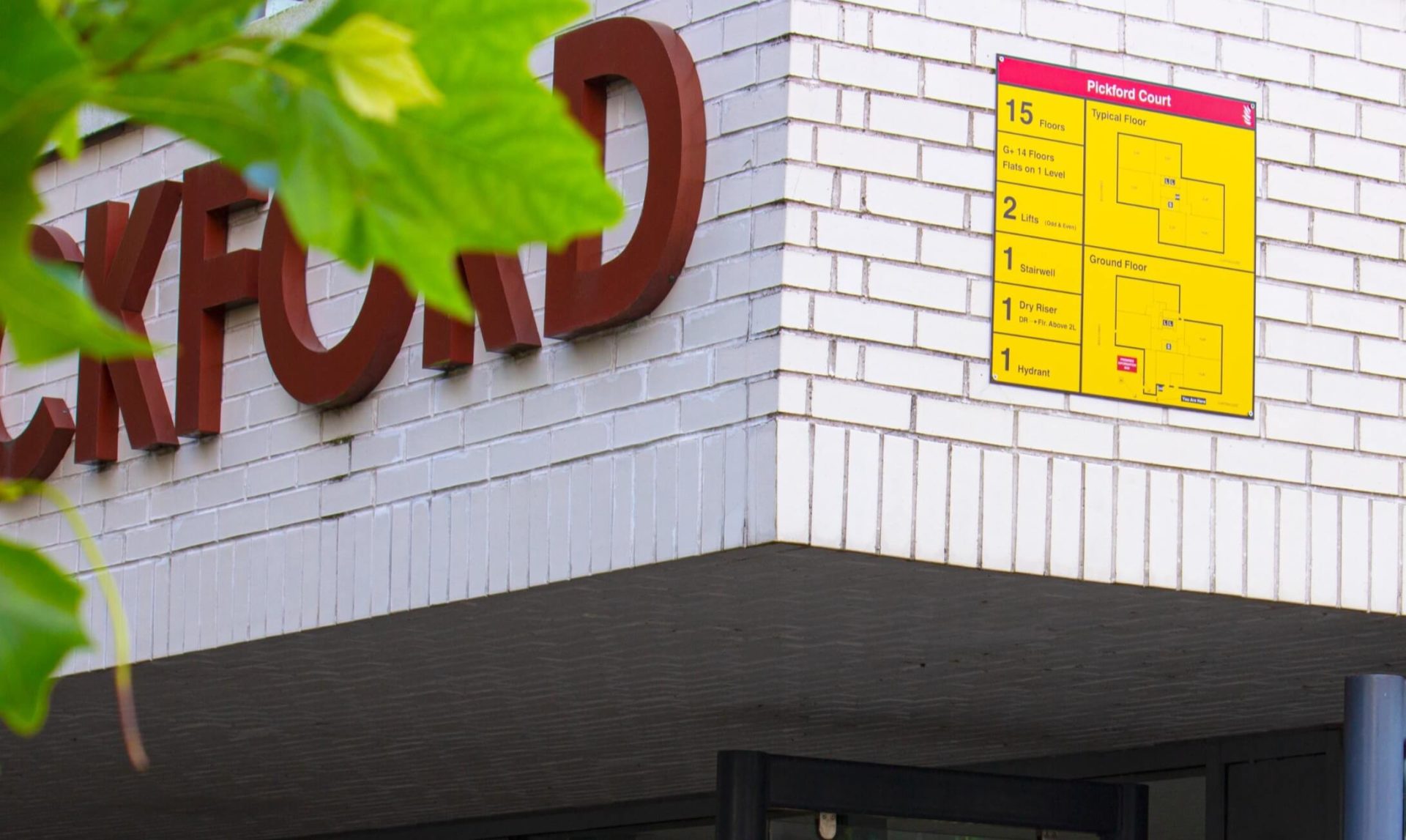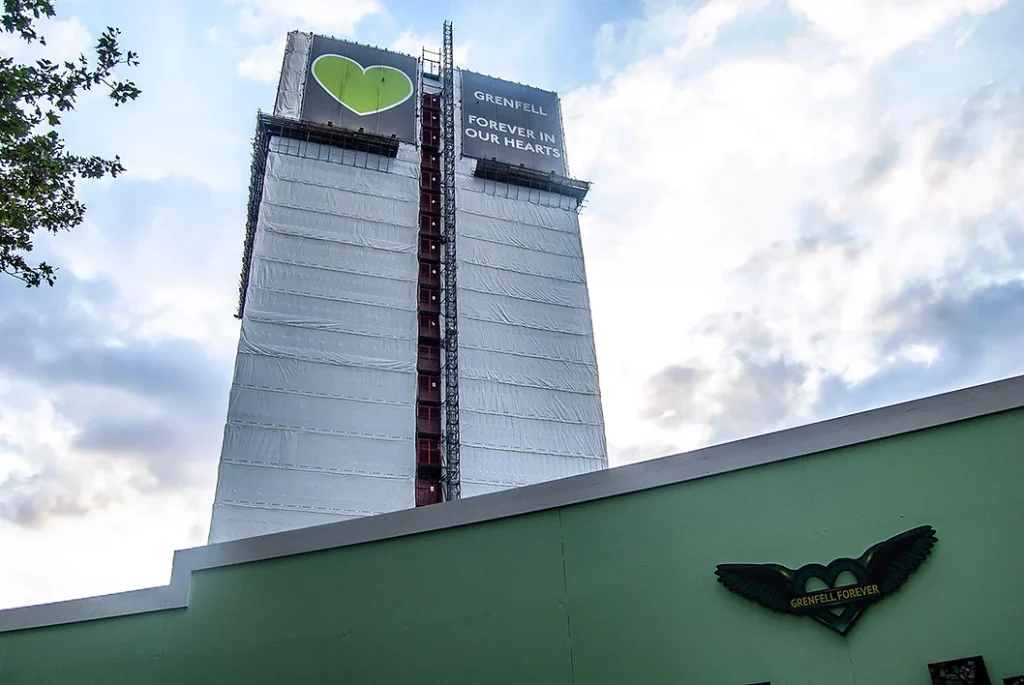 WHY ARE THEY RECOMMENDED?
The Fire Safety (England) Regulations 2022 made it a legal requirement from 23 January 2023 for responsible persons of high-rise residential buildings in England to draw up and share electronically up-to-date floor plans identifying the location of key fire-fighting equipment with their local fire and rescue services.
WHAT IS DIGITAL ANOPRINTING?
Digital anoprinting is a unique process that creates digital images inside the hard-anodised surface of the aluminium. There is no surface print, the surface is pure and smooth anodised aluminium. This makes where signs may be subject to wear or abuse.
It is particularly useful in apartment blocks and student accommodation, being very easy to clean and requiring no maintenance. And because the graphics are locked inside the hard-anodised surface they cannot be defaced or altered, and surface vandalism can be cleaned off.
FAQS
WHAT INFORMATION IS ON THE PREMISES INFORMATION PLATES?
Premises Information Plates show the simplified building plan identifying the main entrances, stairs and lifts.
They also show the fire fighting items such as wet and dry risers and indicate the number of hose lengths the fire and rescue service require from the riser outlets to the furthest room on the floor.
WHY DO I NEED PREMISES INFORMATION PLATES?
Essential information on the firefighting facilities and plans of the building should be made available to the attending fire and rescue service on arrival to an emergency call.
The premises information plate captures all this information and is displayed clearly and conspicuously on the exterior of the building.
WHERE ARE THE PREMISES INFORMATION PLATES MOUNTED?
These are usually mounted by the main entrance used by the fire and rescue service when attending an emergency call.
WHAT MATERIAL IS THE PLATE MANUFACTURED WITH?
The Premises Information Plate is manufactured using vandal and weather resistant anoprinted aluminium as standard.
A di-bond aluminium version is also available which is weatherproof but not vandal resistant.
ARE PREMISES INFORMATION PLATES ONLY FOR USE ON HIGH RISE BUILDINGS?
Whilst the main types of buildings using premises information plates are high rise, other buildings with particular hazards or irregular internal layouts can also display Premises Information Plates to benefit the attending Fire and Rescue Service.
Contact Us
Fill out our contact form below with your enquiry and one of our team will get back to you ASAP.
SIGN UP TO OUR NEWSLETTER